Capital Aikikai
Aikido in the Washington, DC area since 1973
Due to the increasing numbers of Covid-19 cases in Montgomery County, in addition to being fully vaccinated, everyone must wear a mask while inside the Capital Aikikai dojo. Check back here or on our Facebook page for dojo updates.
Capital Aikikai monthly dues payments | more

Member and home dojo of the Capital Aikido Federation, affiliated with the Aikikai Foundation, Tokyo, and the International Aikido Federation. Founder and director, Clyde Takeguchi Shihan. Head instructor, William Plank.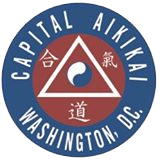 Capital Aikikai, 923 Sligo Ave., Silver Spring, MD 20901 | 240-242-5179 | www.capitalaikikai.org
Member, Capital Aikido Federation; affiliated with the Aikikai Foundation, Tokyo